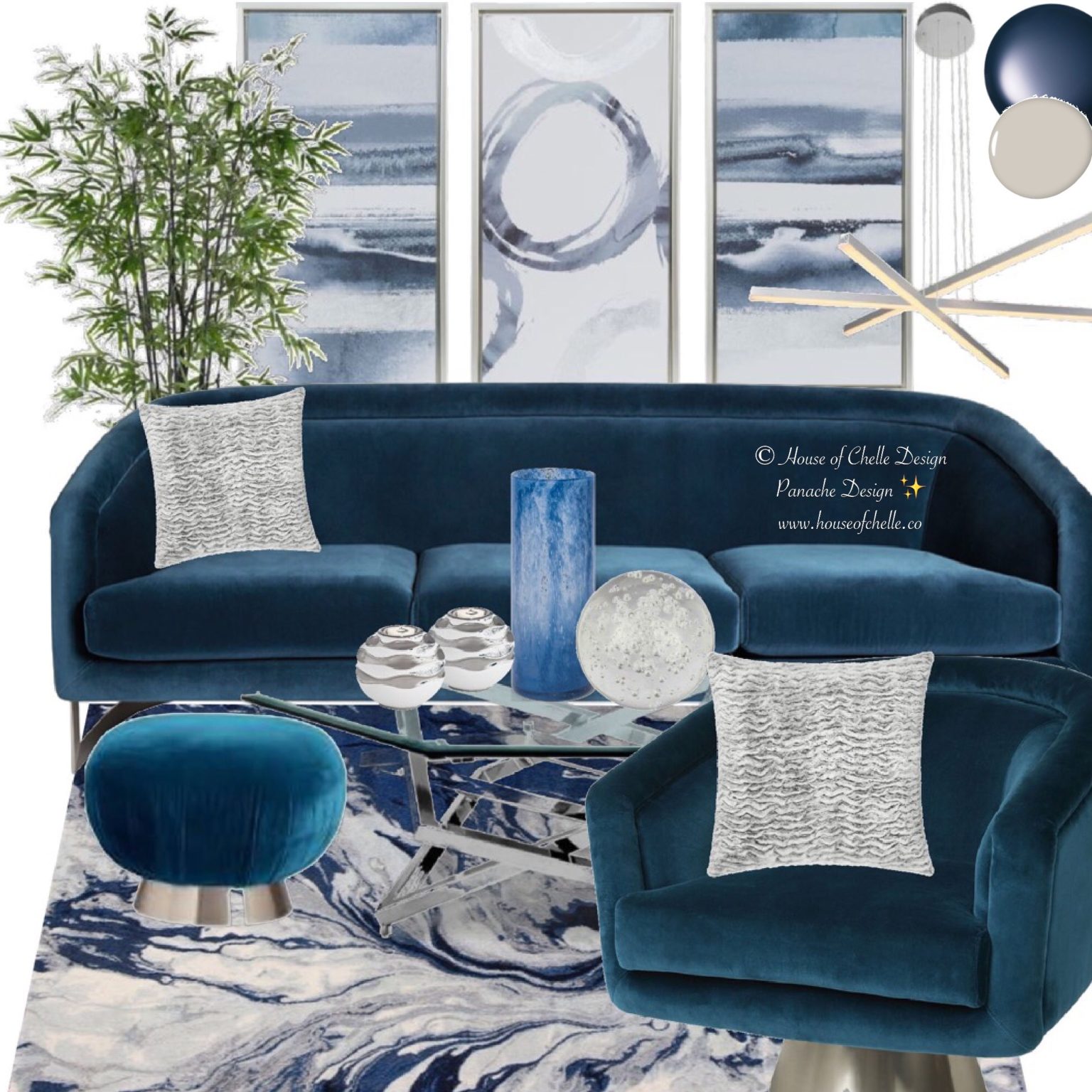 Hey everyone! I am back with another online interior design shop the look board for a living room or sitting room in your home or business. Clients sometimes forget that navy is a neutral, too and can be the perfect color to bring into their home décor when they want a color other than gray or beige but cannot decide on one.  In this design, I again used the rug as the focal point of the color spread in the room. The sofa set was on the living room furniture Pinterest board of my client and was the only thing she knew for certain she wanted in the room.  The home is a new build and they are just moving in, so the room was an empty slate to work with.  Since the sofa set was already glam, I kept the other pieces simple to not compete with it.  Designer Tip: repeating shapes and colors help to ease the eye into a design and keeps it from appearing to be too busy. For my latest living room eDesign, you can find the links to all the design elements below in my online interior design living room shop the look board. Happy Shopping!
Sofa
https://rstyle.me/+d729v5GhbBpbGmSXx4TmXg
Chair
https://rstyle.me/+mEW8nQ1amtv_9KvCHARxVg
Tuft
https://rstyle.me/+TASLdMaA-WKxjsaJNI9Yeg
Rug
https://rstyle.me/+sN7ULCBOpy3USGcPBGV7ew
Coffee Table
https://rstyle.me/+5tCdOg71n_4ghztxMZoCTA
Artwork
https://rstyle.me/+-0nlhbefG7XiGxTNJ7kJGQ
Bamboo Tree
https://rstyle.me/+0w2rD2mbcJemuYZRZEIdAg
Chandelier
https://rstyle.me/+P39QFkjEjcRH06sFFOi4yw
Pillows
https://rstyle.me/+lhoWyEB8EUza2KDuQh_LLw
Glass Orb
https://rstyle.me/+ohEIKMoUkkVmYDAPpT65_w
Candle Holders
https://rstyle.me/+uJXJB5VaD48Ve97QbDTUCQ
Vase
https://rstyle.me/+MbPsb4E32ACJ3WO1mpWJng
I always suggest paint colors for each of rooms I create. In this case, I used Sherwin- Williams Paint Colors SW Naval and SW Agreeable Gray
I offer virtual consultations, online interior design, and if you are local – I also offer traditional in-home interior design services. If you are a realtor, ask me about my virtual home staging service and how together we can get a home listing sold faster at a fraction of the cost of traditional home stating services! Please let me know what you think of this design in the comments and be sure to check back regularly for more design inspiration! If you find you need any design assistance, please contact me at latoya@panachedesign.co (yes .co) for a consultation.