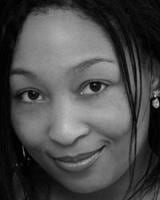 Hi! I'm La Toya – I am an online interior designer serving the Washington, DC metro area and beyond with online interior design services. I have a Master of Arts in Interior Design and I have been practicing interior design for over a decade. Interestingly enough, I didn't start out as an interior designer. I was always interested in interior design; however, I was convinced that law would be the better choice. Coming out of college as pre-law, the legal field was where I thought I would stay. But after spending several years in patents, trademarks, licensing, criminal, and civil law – completely professionally unfulfilled – I decided I needed a change. So, immediately after completing my MBA (like, literally as I was standing in line to submit my application for graduation from business school), I decided to take a leap of faith and start my graduate interior design studies a short two weeks later. Best decision I ever made! I now design home interiors and office spaces for clients across the United States. My specialty is transitional design with modern touches and/or pops of glam included in the design, resulting in a space that can be truly lived in and enjoyed.
Whether you are looking to design one room or multiple rooms to create a harmonious design flow, my online interior design process begins with the selection of durable, quality furniture. Using solid furniture pieces that you love will enable you to change your home décor pieces with ease when you find your design style changes. My interior design process is done entirely online. Depending on your design needs, we work together to create a floor plan, review paint options, and make furniture selections. Once you have approved your design, you are provided with the final floor plan and the shopping list with the links to all products so that you can start shopping to complete your design immediately or, if you need to order some things now and order some things at a later date – no pressure! You already have your design plan and shopping list ready to go for when you are prepared to start ordering your products. Please keep in mind, however, that product availability may change the longer you wait to order your products. If an item goes out of stock, it may result in needing to select a substitute product – which I will be happy to assist you with should you need me to.
As an online interior designer, a large part of what I do involves creating libraries of unique furniture and décor options for my clients or, when needed, sourcing budget friendly product options to suit their needs. Design should be easily accessible, and I love sharing new looks and ideas and with my clients. You will find that I have curated full room designs and created moodboards of my favorite finds on my blog! If you see anything that you like in those designs, they all have shoppable links included so that you can shop the look directly from my blog. If you would like to discuss services – visit my Design Services page and contact me to set up a consultation. Thank you for stopping by and I look forward to working with you!