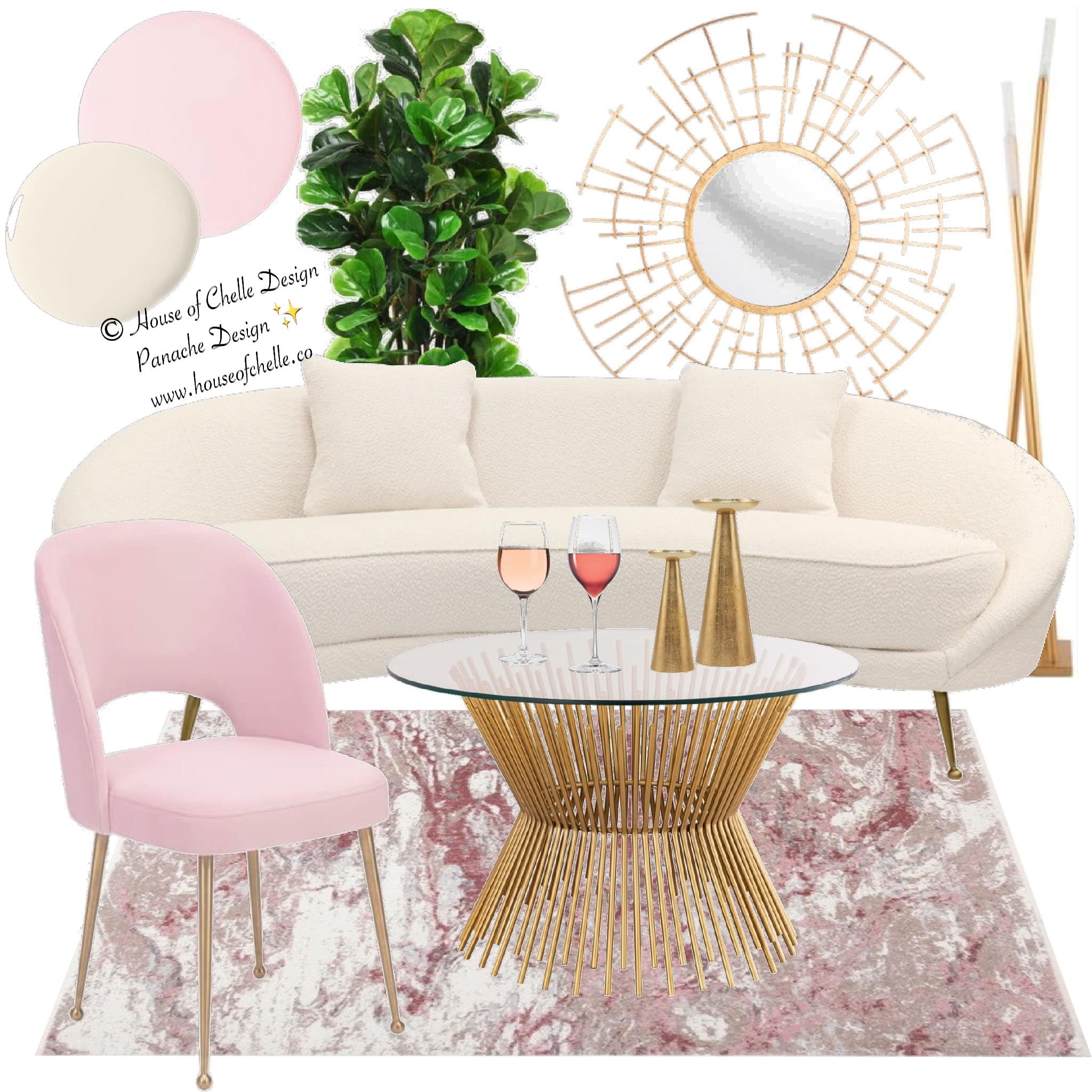 Hey everyone! I am back with another online interior design shop the look board for a living room or sitting room in your home or business. Spring is in the air here in the DMV area and a lot of my clients are looking to add some spring cheer into their home décor.  In this design, I again used the rug as the focal point of the color spread in the room. The mix of pink, blush and mauve was exactly the color palette my client desired as she wanted a light balance in this sitting room overall.  Since this room was a no kid zone and a Babe Cave of sorts, the sofa was an easy (and gorgeous) selection for this space as was the blush slipper chair. We added a bit of glitz with the gold coffee table and mirror and punched up the modern feel of the room with the gold floor lamp.  Gold was selected as the accent because of the gold storage shelf that was being kept in the design. Designer Tip: when you are placing a rug in a room, it is important to note that the size is extremely important.  Your rug should always be placed under the front feet of the sofa.  If it cannot be placed there and still cover the distance that you would like the rug to cover (or reach the area in the room you want the rug to extend to), purchase a larger size rug.  The wrong size rug can easily throw your design off balance.  It is always better for the rug to be too big than too small.  After the rug selection – the rest of the online interior design process was quick and simple. For my latest living room eDesign, you can find the links to all the design elements below in my online interior design living room shop the look board. Happy Shopping!
Sofa
https://rstyle.me/+RxaF8N1PwhgyXXUERkqJlg
Rug
https://rstyle.me/+cifUgJknqAe1pevZLOw7Mg
Coffee Table
https://rstyle.me/+iZxIRiY2wUxplFqQAaJEPQ
Chair
https://rstyle.me/+EeGyROQZPvlfEKwxW_GLQA
Candles
https://rstyle.me/+QDKWH1FxetaW0DS30kBwjA
Mirror
https://rstyle.me/+hylCs4FnuId9Ade_zPHU3g
Floor Lamp
https://rstyle.me/+lE5cKWwerFcfVEoQty7XlQ
Silk Tree
https://rstyle.me/+qK6q4dOol7awbd2lmgqBiA
I always suggest paint colors for each of the rooms I create. In this case, I used Sherwin-Williams Paint Colors SW Creamy and SW Angelic.
I offer virtual consultations, online interior design, and if you are local – I also offer traditional in-home interior design services. If you are a realtor, ask me about my virtual home staging service and how together we can get a home listing sold faster at a fraction of the cost of traditional home stating services! Please let me know what you think of this design in the comments and be sure to check back regularly for more design inspiration! If you find you need any design assistance, please contact me at latoya@panachedesign.co (yes .co) for a consultation.