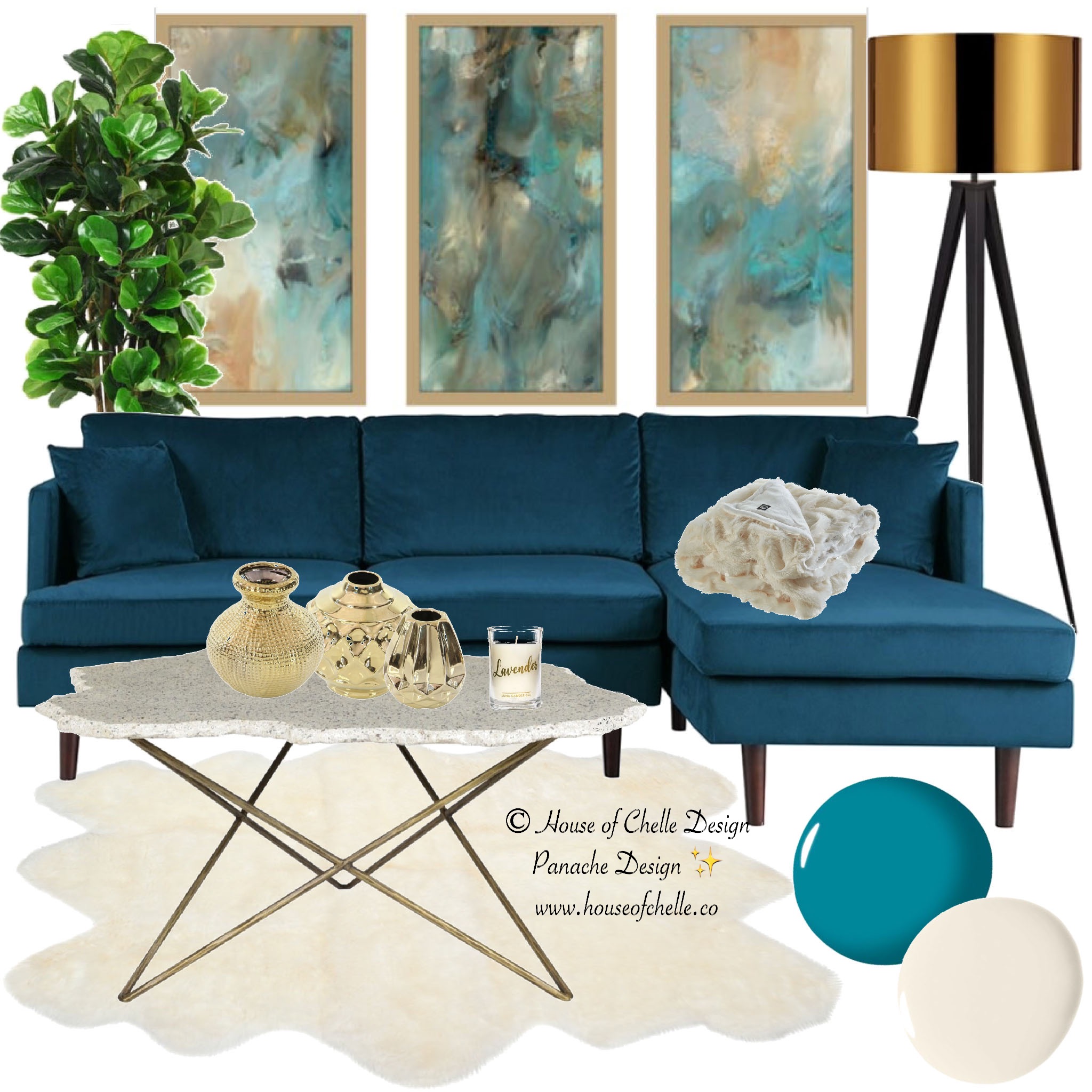 If you are anything like me – during this quarantine, I've been doing a bit of online shopping and home rearranging. Since we are spending so much time at home, I am finding that most of my client inquiries are about how they can easily change the look of the rooms in their homes with online interior design or asking me where they can find the items I feature in my design moodboards. I typically do not use retail items in my interior designs. Most of the items in my moodboards are To the Trade Only so that I can keep the looks a bit more unique for my clients. There are some cases where I do use a mix of both Trade Only items and retail items, but for my recent clients – I have been using more retail so that they can easily get the items online themselves instead of me having to secure their purchases and have my receiver arrange white glove delivery for them. Quarantine has definitely changed some of my services and expanded others, but in a good way!. For my latest living room design, you can find the links to all of the design elements below. Happy Shopping!
Artwork Piece
https://rstyle.me/+KPLs-xqUTv1_RyaHsa-4xA
Sofa
https://rstyle.me/+T-E8mtds2AbPZE_FrD7NdQhttps://rstyle.me/+T-E8mtds2AbPZE_FrD7NdQ
Lamp
https://rstyle.me/+g00KNHYBrDabYxGM1pmgqA
Silk Tree
https://rstyle.me/+qK6q4dOol7awbd2lmgqBiA
Throw Blanket
https://rstyle.me/+QiFAdMKK1oLu-IncThyNJQ
Coffee Table
https://rstyle.me/+6G3HAdY9RrIdXoqlQN_cmQ
Vase Set
https://rstyle.me/+P_sQsOLpPQEt4eSrznvSQQ
Candle
https://rstyle.me/+7W-hbljSl6y7KBQD2BAtlA
Rug
https://rstyle.me/+_xV-XAIGyyPrd0AtB8HqLQ
I always suggest paint colors for each of rooms I create. In this case, I used Sherwin- Williams Paint Colors SW Creamy and SW Crusing
I offer virtual consultations, online interior design, and if you are local – I also offer traditional in-home interior design services. If you are a realtor, ask me about my virtual home staging service and how together we can get a home listing sold faster at a fraction of the cost of traditional home stating services! Please let me know what you think of this design in the comments and be sure to check back regularly for more design inspiration! If you find you need any design assistance, please contact me at latoya@panachedesign.co (yes .co) for a consultation.